Must Be The Shoes: Hottest Sneaker Releases 4 The Remainder of 2018 PT. 2
Must Be The Shoes: Hottest Sneaker Releases 4 The Remainder of 2018 PT. 2
NIKE KYRIE 5 "TACO"
Retail: $130

Release Date: November 16th, 2018

Coming from far left field, Nike x Uncle Drew decided to drop a collab with Taco from Odd Future. Yeeee, I'm here for it. To all my Soundcloud DJs, don't you dare let your friends, family or significant others tell you that you can't drop a sneaker collab with the biggest name in the industry, because you can. Look at Taco. Been in the sneaker game for hella long, and I promise you, this is the first time I've seen a camouflage hooping shoe. Add in the Halloween orange, and the shoe has a slightly spooky vibe. Nothing on this jawn was predictable, luv to the designers for crushing it.
UNION X AIR JORDAN I RETRO HIGH OG NRG
(White/Varsity Red-Wolf Grey-Black & White/Storm Blue-Varsity Red)
Retail: $190

Release Date: November 17th, 2018

Union LA linked with Jordan Brand for a vintage-era inspired collection, which will drop this November. Chris Gibbs, owner of Union, wanted to make sure the collection displayed a throwback, weathered look, so he teamed with Jordan NRG and birthed two more must have go-with-everything AJ1s: one modeled after OG colorways, White/Natural Grey and "Black Toe", and one that features a combination of the White/Blue and "Banned." Both feature a distinct exposed stitching and a tad bit of yellow which adds to the vintage aesthetic. Heavy heat, heavy anticipation for these bad boys that's for sure.
DRAGON BALL Z ADIDAS ULTRA TECH "VEGETA" + ADIDAS KAMANDA "MAJIN BUU"
Retail: $150-$160

Release Date: November 24th, 2018

Saiyan Prince Vegeta in the Adidas Ultra Tech vs. iconic supervillain Majin Buu in the Kamanda. Both contain detail that would get every Dragon Ball Z fan geeked up; from Vegeta's "Over 9000" catch phrase from the "The Return of Goku" episode located on the back heel of the Ultra Techs to Majin Buu's signature "M" logo on the back heel & "Mr. Satan" underneath the tongue on the Kamandas. I'm digging the complete contrast Adidas went with for these models as opposed to just giving the same shoe different colorways. DBZ Die hards, 3 stripes did y'all right.
OFF-WHITE X NIKE ZOOM FLY SP
("BLACK" & "TULIP PINK")
Retail: $170

Release Date: November 28th, 2018

Louis Vuitton's Artistic Director, Virgil Abloh continues his dominance this calendar year by introducing two new colorways (Black, Tulip Pink) to the Off-White x Nike Zoom Fly SP family. Both feature the translucent upper, so no crusty dusty socks allowed. Abloh's dropping an all-pink shoe with a see through upper and a baby blue zip tie because he can. Flex. These are going to sell out 5x faster than the kid flipping skittles and candy bars at your local elementary school.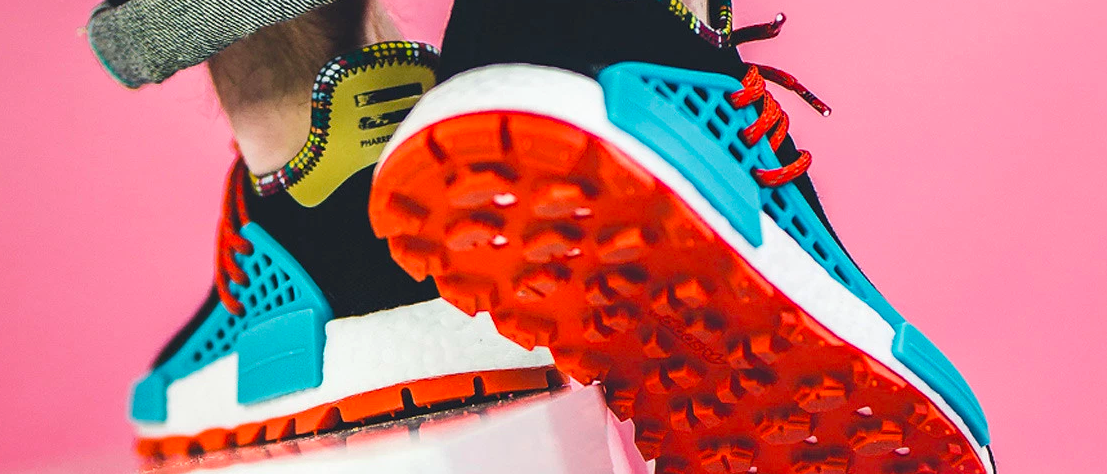 PHARRELL X ADIDAS NMD HU
"INSPIRATION PACK"
(Clear Sky/Core Black/Bold Orange, Core Black/Clear Blue/College Orange, Power Blue/Light Pink/Orange & White/Green)
Retail: $250

Release Date: November 30th, 2018
My adoptive father Pharrell Williams x Adidas have been torching 2018 (and
pretty much every year before). I might have a small family bias, but who cares,
this is my piece. 4 new colorways means a better chance of getting your
hands on a pair, but don't ask me for a hook up. We can't help you unfortunately.
OFF-WHITE X NIKE AIR FORCE 1 LOW
("VOLT & BLACK")
Retail: $170

Release Date: November 2018

Cut it out Virgil! Abloh really might be the only designer to successfully bring the concept of a all-volt Air Force One to life. A wild mix of materials, rough stitching around the swoosh and classic Off-White tags….. literally going to have the bots going brazy brazy. So my birthday coming up right….and the black is cool & all, but Virg you know I like my sneakers like my cannabis, loud (Ba Dum Tsss), sz. 10 Tennis Ball's, same addy. Much luv.
AIR JORDAN XI "CONCORD"
Retail: $220

Release Date: December 8th, 2018

One of the most beloved Jordans, Concord 11s, are returning just in time for you to devise a plan to convince your side piece to buy you a pair for Christmas. These legendary kicks are for winners, ask MJ, who rocked them whilst lifting the Bulls to a 72-10 record on the way to his fourth ring. Keep em' clean, as the yellowing on the pure ice gum bottom will crush a man's sole. I got you with this link, though. Protect ya fresh at all costs young boul.
NIKE AIR FEAR OF GOD 1
("LIGHT BONE & BLACK")
Retail: $395

Release Date: December 15th, 2018
A military boot that looks like a hybrid between the Marty McFly Air Mag x Yeezy 750, the Fear of God 1 might be the most anticipated shoe on this list. Nike's genius is well documented, and now that they've joined forces with the most poppin' in streetwear, Jerry Lorenzo x Fear of God, they've reached another level. World renowned sneaker king PJ Tucker revealed these next-level joints on court against the Nets on Nov. 2nd. With similar lacing as the Huarache Light, the Fear of God 1s also feature an air max window in the heel which resembles the nostalgic Air Max 180s. Not convinced on that $395 price tag yet? Peep the unboxing video in the above slideshow, then play Gunna's Drip Season 3 in its entirety; if anyone can serenade you into making a purchase it's Gunna.
AIR JORDAN VIII TINKER
(AIR RAID)
Retail: $190

Release Date: December 22nd, 2018

Jordan VIII and Nike Air Raid officially gave birth to their first born and plan on officially releasing their creation on 12/22/18. Hello world. Inspired by Tinker Hatfield's original signature designs and one of the most popular basketball shoes of the 90s, a joint worn by Father Double Crossover, Tim Hardaway. The all black works marvelously with hints of vibrant colors (Light Concord, Aloe Verde, and University Red) and a retro feel on the heel. Old heads rocking with these.
NIKE AIR MAX PLUS OG
("HYPER BLUE")
Retail: $160

Release Date: December 22nd, 2018
Get you a pair. If you have the means, GET YOU A PAIR. For cats around my age group, 26-27, this shoe and particular OG colorway might be held near and dear to your heart. Shoot, I remember begging my mom for these at Footaction on mad occasions, just to see the Caucasian boys at school treat em' like shit. Aghhhhh, trust me you want these in ya closet. If Santa (aka Mr. Jones from Friday After Next) doesn't bring these along with a XBOX and all the games, I'm to going to pull up on- Bros Bar-B-Q real quick with beef.
OFF-WHITE X NIKE AIR MAX 90
("DESERT ORE")
Retail: $160

Release Date: December 2018

Go ahead and say it, "another Nike x Off-White on your list Hy?" Believe it or not, I tried my hardest to avoid overdoing it with the Abloh collabs, but geez man talk about saving the best for the last of the year. The Tan Desert Ore & Mango combo is everything I dreamt it would be. And how dare Nike x Virgil put that hint of hyper jade on the tab with the option of matching hyper jade laces. Sneaker porn is something else. Need me a breather.
Hysom Zarroug