All The Detangling Deets
Everyone loves The D word. You know the one I'm talking about. It sends chills down your spine and is an integral part of so many women's lives: D E T A N G L I N G. After years of enduring painful detangling sessions, I've educated myself and grown to love the process I've created. I believe in passing along wisdom so I'm sharing my detangling deets so we can all flourish together. Thank me later. :)
As one of the most important steps when trying to succeed on your own natural hair journey it's important that you use the best tools to get tangles up and out of your mane. My recommendations?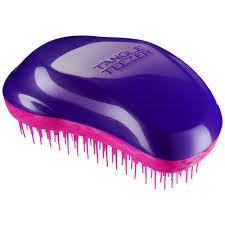 - Wide Tooth Comb
- Denman Brush
- Paddle Brush
- Tangle Teezer
- Fingers
- Palm Brush
So we've covered tools, now let's talk technique. Enjoy these pro tips to get the most out of your detangling sessions.
Detangle hair when damp or wet and for added slip use a creamy conditioning product, it is easier to manipulate and prevents breakage.

Detangle your hair from the ends up to your roots. Make sure to massage in product at the root and back down the hair strands.

The best part about finger detangling is that you aren't ripping through and breaking your hair strands. Just make sure you are being gentle with any knots.

Keep all detangling tools clean of old hair and sanitize every 4 to 6 weeks (depending on how often you use them). I gently clean my tools after every use, at the very least I always remove the shedded hair.

Section your hair! With 4 to 6 plaits you'll have an easier and more effective detangling session. It may take a few more minutes but trust me it's worth it.

Detangle in the mirror with a towel around your neck to catch dripping product. If you're detangling in the shower to avoid making your bathroom floor a mess I recommend turning the water off and taking your sweet time with your hair.
Happy Detangling! I hope these tips help your next arm day…my bad, I mean detangling day.
What are your favorite tools to detanlge with? Let me know.
Naturally yours,
Instagram/Twitter - @getlikemykk
Hysom Zarroug